If you are concerned about how your facial skin appears because of sun damage or dark spots, board-certified physician Dr. Tricia Shimer can perform a skin analysis at our Dallas, TX office to see if you qualify for Lumecca IPL (intense pulsed light) therapy. A photofacial with IPL is a skin rejuvenation treatment for adult men and women with hyperpigmentation problems on the face and chest. A photofacial is not an invasive procedure; however, it can be highly effective and produce impressive results. Evolve Med Spa uses intense pulses of light to heat the skin and set off the natural regeneration process, forcing pigment to resurface and capillaries to disappear. What remains is beautifully even-toned skin.
Before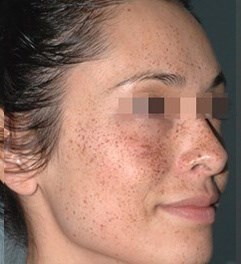 After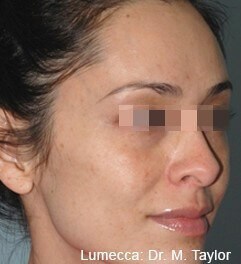 IPL Reviews
"A friend referred me to Evolve Med Spa and I'm so happy they did! I did IPL treatments with Samantha and the results are incredible. The results truly exceeded my expectations! Jessica is always very informative and answers all my questions. She is great about explaining the procedure and what to expect. Very professional!"
- M.H. /
Google /
Mar 26, 2021
Previous
Next
Who is a Great Candidate for IPL?
A photofacial works deep within the layers of your skin to improve several complexion concerns (particularly brown lesions and sun spots) with little or no recovery needed. The best candidates for IPL treatments at Evolve Med Spa may have a combination of issues with their complexion, including sun damage, rosacea, brown spots (hyperpigmentation), flushing, sun and age spots, or dilated capillaries. A member of Dr. Tricia Shimer's professional team will assess your skin to see if you are a candidate for a photofacial during your private consultation.
IPL is performed by one of our experienced aestheticians in a private treatment room at our Dallas, TX office. It takes about 20 – 30 minutes if performed as the sole treatment. To prepare for the Lumecca IPL treatment, your technician will clean and dry the skin to be treated before covering your eyes with shields. The IPL photofacial is performed using a handheld device that passes over the skin while emitting pulses of laser energy. While most patients will have mild discomfort throughout the photofacial, it is usually tolerable for the fast treatment length.
After Your Lumecca Procedure
There is no recovery period needed with a Lumecca IPL photofacial treatment, but you will leave our office with your skin a little swollen and pink. This will subside naturally in about a day — it may be masked with makeup if you prefer. Dr. Shimer advises patients to apply a cream on the skin to minimize any irritation and promote healing. It may also help to use anti-inflammatory medication to help ease swelling. Over the next 2 – 5 days, the irregularities that rested under the skin will rise to the surface and then start to flake away. It's critical to keep your skin protected from the sun at all times after an IPL photofacial treatment and to not pick at your skin while it heals.
Why Should I Get Multiple IPL Sessions?
While you will have visible improvements after your first treatment, your skin will attain ideal results with several IPL photofacial sessions. Dr. Shimer recommends most patients get 2 – 4 sessions of Lumeccca IPL done monthly at Evolve Med Spa. This is recommended to deliver gradual improvements to your skin. Each treatment helps to fade spots and other surface irregularities. Several sessions also produce longer-lasting improvements. Our team of dedicated professionals can help you design a treatment plan that is just right for you.
You probably didn't worry much about your skin's health when you had clear skin, but now that environmental damage, such as spots and other issues, are appearing, you now may be interested in procedures that treat your skin concerns. We encourage you to find out more about IPL photofacial treatments by contacting Evolve Med Spa and scheduling a skin examination with Dr. Shimer. With IPL photofacial treatments at our Dallas, TX office, we can go deep within the layers of your skin to help restore a radiant glow and a smooth complexion.
Related Treatments
Related Posts