What is Radiofrequency Microneedling?
Evolve Med Spa utilizes a special approach to radiofrequency (RF) microneedling that produces outstanding outcomes for our patients. Board-certified physician Dr. Tricia Shimer is pleased to offer this procedure using Morpheus8™ by InMode technologies. RF treatments have existed for a number of years and are popular in the cosmetic industry for their skin tightening effects, but Morpheus8 is different because it uses both RF and microneedling together. This specific type of treatment uses heat to encourage the creation of collagen in the deeper layers of the skin to reveal a tighter, smoother surface. At our office in Dallas, TX, we frequently incorporate this new process into our patients' skin care treatments to generate healthier, smoother skin and a glowing complexion. Contact us today for more information.
What Are The Benefits Of RF Microneedling?
A few players can create dull, loose, and textured skin. The Dallas, TX patients who go through similar skin issues can consider RF microneedling a fantastic solution to their problems,finding benefits from this procedure, including:
Improving multiple aesthetic skin issues
Reducing lines, wrinkles, and creases
Tightening and firming the skin
Diminishing skin imperfections, spots, discoloration, scars, stretch marks, etc.
Smoothing and improving skin tone and texture
Stimulating the natural production of collagen and elastin
Gentler than other procedures
Recovery time is quick
Safe and effective for most skin types
Before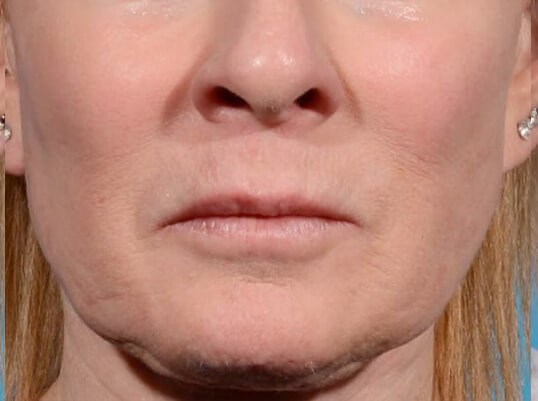 After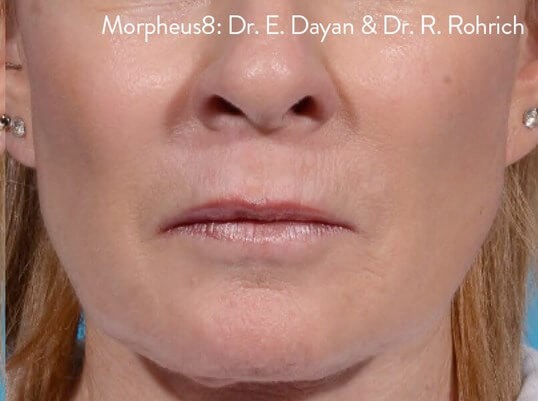 Reviews
"Every time I visit they can tell I get nervous and they go above and beyond to talk with me about my day and make me fell comfortable, not just the doctor but all the nurses as well! Thank you Dr. Shimer!!!"
- K.P. /
Google /
Jan 15, 2020
"A friend referred me to Evolve Med Spa and I'm so happy they did! I did IPL treatments with Samantha and the results are incredible. The results truly exceeded my expectations! Jessica is always very informative and answers all my questions. She is great about explaining the procedure and what to expect. Very professional!"
- M.H. /
Google /
Mar 26, 2021
"Absolutely love Dr. Shimer and her team!! Everyone is friendly and extremely attentive. I'm so glad that my friend shared her great experience with me and encouraged me to try Evolve Med Spa."
- E.D. /
Google /
Jan 13, 2021
"I was taken care by Sam. She was so professional and expert in what she does. And my results were awesome. I will surely recommend her."
- P.P. /
Google /
Dec 26, 2020
"She and her staff are friendly and attentive. Great people!"
- S.M. /
Google /
Sep 11, 2020
Previous
Next
Should I get RF Microneedling?
If you are 40 years or older and are beginning to notice smile lines, age spots, discoloration, and other skin problems (that can come with age and sun exposure), RF microneedling with Morpheus8 may be the perfect treatment for you. RF microneedling is a wonderful choice if you want to:
Firm your skin, producing a more refreshed look
Reduce subdermal fat in the chin area
Increase collagen production
Repair acne scars and other forms of scarring
Rejuvenate skin for a younger, more luminous look
Our RF Microneedling PRocess
Morpheus8 is a subdermal adipose remodeling device (SARD) that utilizes a tool with needles on the end that can reach up to four millimeters deep into your skin. The tool is rolled gently around the skin to puncture and make micro-injuries that "interrupt" the tissues and stimulate the production of collagen. Some also refer to this as collagen induction therapy. New skin forms as the skin heals, leaving the top layer feeling and looking brighter, smoother, and rejuvenated. Although this process is commonly done by itself, combining this advanced technique with radiofrequency microneedling technologies has allowed us to optimize the results for our patients.
The procedure is quite easy. The handheld device, which emits radiofrequency energy, works by providing brief pulses of RF energy through a collection of 25 sterilized, gold-plated microneedles. The energy is transmitted through the needles, which simultaneously puncture your skin and circle back the electrodes into the skin. The RF energy warms at levels that offer cumulative and ongoing benefits.
What Should I Expect After RF Microneedling?
RF microneedling treatment will take place in the Evolve Med Spa facility with the use of numbing cream to minimize any discomfort. Most patients report little pain during this procedure. During your appointment, the handheld device will roll over the desired treatment areas, repeating the process until the desired outcome has been reached. You can anticipate tiny, pinpoint scabs to appear 24 – 72 hours afterward, which will naturally disappear when the inherent skin has healed. Outcomes become visible as the skin heals over 3 – 4 weeks after the microneedling with RF procedure.
Do I Need Follow-Up Treatments?
Every person is different so some people might require more treatments than other patients. Dr. Shimer's staff will perform a thorough evaluation of your skin and take into account your needs and wants to determine how many sessions you will need. Typically, we recommend that patients receive 3 – 4 procedures spaced four weeks apart. Additionally, while Morpheus8 delivers great results alone, you may consider getting it with a second procedure for even more impressive improvements. In your consultation, we will ask about all your concerns and goals before suggesting RF microneedling, as well as any additional procedures.
How long do the results of RF microneedling last?
The Morpheus8 RF microneedling procedure is extremely effective, however the hands of time never standstill. While some patients often see results lasting up to a year or more, often maintenance treatments are recommended.
How long does the Morpheus8™ RF microneedling treatment take?
It depends on your aesthetic goals, target area, and severity of treatment, but on average you can expect the procedure to take between 30 - 60 minutes.
Is RF Microneedling better than standard Microneedling?
Because RF microneedling uses radio waves in addition to microneedles to reach deeper into the skin to stimulate natural cell growth, it can effectively treat a wider variety of conditions than traditional microneedling, including stretch marks, acne scars, sun damage, large visible pores, wrinkles and fine lines.
Does RF microneedling hurt?
There may be minor discomfort post-procedure during the healing process, but most patients report little to no pain during the actual RF microneedling procedure itself. Prior to the procedure, Dr. Shimer will apply a numbing cream to the target area that will minimize any pain or discomfort you may feel.
How much does RF microneedling cost?
The cost of your RF microneedling session will vary on your needs and how many sessions are needed to deliver your optimal outcomes. In your initial consultation, we will go over all your questions and estimate your total costs.
How many RF microneedling treatments should I get?
Every person is unique — so some patients might want more treatments than other patients. Our team will take the time to perform a complete assessment of your complexion and listen to your needs and wants to determine the appropriate number of sessions for you. On average, many patients get 3 – 4 sessions spaced about a month apart.
RF microneedling with Morpheus8 is a great treatment with proven outcomes if you are seeking to decrease the look of aging or sun-damaged skin, or reduce acne scars, wrinkles, or laxity. Mixing radiofrequency microneedling and skin tightening, this exceptional skin repair procedure has risen in popularity and continues to be a highly sought after, minimally invasive therapy for Dr. Shimer's Dallas, TX patients. We welcome you to contact Evolve Med Spa to learn more.
Related Treatments
Related Posts