What is RADIOFREQUENCY body contouring?
Have you tried reducing areas of stubborn body fat with diet and exercise, only to feel exhausted from effort without the results you hoped for? If you're caught in this familiar cycle, a radiofrequency (RF) body contouring treatment may be for you. At Evolve Med Spa, we use several InMode technologies, Evolve Trim, Evolve Tite, and Evolve Tone for this fat-diminishing procedure. Both noninvasive treatment options deliver RF heat deep into adipose tissue to target and smooth stubborn body fat and cellulite while tightening skin and toning muscles. This nonsurgical procedure is a great alternative to liposuction and other "fat freezing" technologies. If you're ready to start seeing a slimmer figure, contact board-certified physician Dr. Tricia Shimer today to schedule a consultation at our Dallas, TX office.
What Are The Benefits Of RF Body Contouring?
When a healthy diet and exercise routine alone does not deliver the desired results, experience RF body contouring at Evolve Med Spa in Dallas, TX. Our skilled team offers this nonsurgical treatment with numerous potential benefits, such as:
Surgery-free solution
Comfortable and pain-free procedure
Quick and easy treatments (only 30 - 60 minutes)
Minimal recovery time and downtime
Enhances muscle tone for a slimmer and more toned appearance
Eliminates unwanted fat pockets
Reduces and smoothens cellulite
Treats multiple areas in a single session
Enjoy long-lasting and effective results
Visit Evolve Med Spa today and discover the power of RF body contouring. Our team is excited to help you achieve your body goals.
Before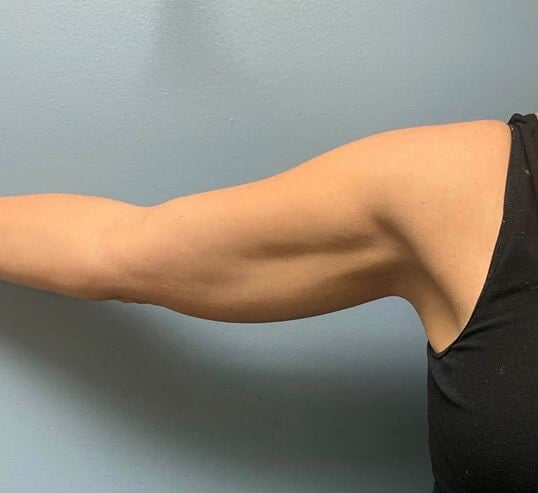 After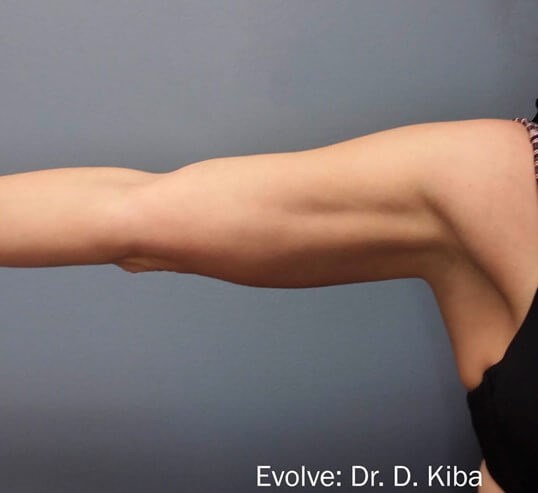 What Are My Treatment Options?
We offer two options for your radiofrequency body contouring treatment at Evolve Med Spa. Dr. Shimer's team will help you decide which one is right for you when you visit our office for your consultation.
Evolve Trim: This hands-free technology leverages heat and a vacuum via six applicators over the skin. By sending thermal heat deep into fatty tissues, it reshapes problem areas where fat and cellulite could not be eliminated with diet and exercise alone.
Evolve Tite: Evolve Tite uses eight hands-free applicators to deliver heat under the skin to stimulate collagen production, remodeling tissue and cellulite. This nonsurgical radiofrequency technology is ideal for those looking to firm, tighten, and tone loose skin.
Evolve Tone: Evolve Tone is hands-free nonsurgical radiofrequency technology that can assist in toning muscles by emitting electrical muscle stimulation. Evolve Tone focuses on specific areas like the abdomen and buttocks to refine, strengthen and tone muscles.
Reviews
"Every time I visit they can tell I get nervous and they go above and beyond to talk with me about my day and make me fell comfortable, not just the doctor but all the nurses as well! Thank you Dr. Shimer!!!"
- K.P. /
Google /
Jan 15, 2020
"A friend referred me to Evolve Med Spa and I'm so happy they did! I did IPL treatments with Samantha and the results are incredible. The results truly exceeded my expectations! Jessica is always very informative and answers all my questions. She is great about explaining the procedure and what to expect. Very professional!"
- M.H. /
Google /
Mar 26, 2021
"Absolutely love Dr. Shimer and her team!! Everyone is friendly and extremely attentive. I'm so glad that my friend shared her great experience with me and encouraged me to try Evolve Med Spa."
- E.D. /
Google /
Jan 13, 2021
"I was taken care by Sam. She was so professional and expert in what she does. And my results were awesome. I will surely recommend her."
- P.P. /
Google /
Dec 26, 2020
"She and her staff are friendly and attentive. Great people!"
- S.M. /
Google /
Sep 11, 2020
Previous
Next
Who qualifies for RF body contouring?
During your consultation at Evolve Med Spa, our highly qualified aesthetics professionals will go over everything you need to know about RF body contouring prior to your procedure. Evolve Trim, Evolve Tite, and Evolve Tone are considered safe for patients of all skin types and tones, as long as they are in good health. This procedure is ideal for those who want to target exercise-resistant fat on problem areas, including the abdomen, thighs, back, knees, and arms. In addition, candidates for RF body contouring prefer a treatment without a long recovery, don't want incisions or scars, and do not smoke.
Our RF Body Contouring Procedure
RF body contouring is performed by one of our certified aestheticians in our Dallas, TX office. Some patients prefer to do this treatment during their lunch break, as it can be done within about 30 – 60 minutes. After you are comfortable in one of our private patient rooms, your technician will place the hands-free RF device over the treatment area(s). Multiple areas can be treated simultaneously. You may feel a warm sensation on your skin as the heat and vacuum technologies do their work. You will have the ability to pause your treatment at any time if you begin to experience any discomfort, although most patients report that they experience little or none at all.
After Your RF Body Contouring Treatment
There is no required downtime after an RF body contouring treatment with the Evolve system, and the majority of patients experience very few after effects. Some may have mild redness or warmth in the area of the body that was treated. This is normal, and you should feel fully recovered within a few hours.
Some people may have noticeable results after one session. Depending on the body area treated and mode of treatment, generally, the majority of people should notice significant improvements with a series of treatments over about 2 – 4 months. Once your body gets rid of the fat tissue, it won't return. However, it's important to maintain a normal weight, as large weight increases can alter the outcomes. Dr. Shimer's professional team will review all of this information with you during your treatment consultation and after your Evolve session.
How Many Sessions Do I Need?
Our team will recommend the appropriate amount of sessions for you after assessing your needs and goals. Most patients will need 3 – 8 maintenance sessions over several weeks. You should start seeing your new shape after the first few weeks with gradual improvements continuing over time. During your consultation, Dr. Shimer will customize a treatment program to deliver your best results.
Does RF body contouring hurt?
No, most patients don't find an RF body contouring treatment session painful, or even uncomfortable. The RF energy delivered to the treatment area is computer controlled and regulated for safety and efficacy. Most patients say the treatment feels like a deep heat, much like a hot stone massage. If for any reason you experience discomfort during your treatment, we can pause the session to readjust.
What will be part of my RF body contouring treatment?
The number of areas being treated will be determined in your initial consultation with Dr. Tricia Shimer and her team. In some cases, treatments may be scheduled in stages, depending on your overall physical health and the number of areas being addressed. RF body contouring can effectively be used on the abdomen, buttocks, thighs, and arms.
What is radiofrequency energy?
As an advanced energy source, radiofrequency (RF) utilizes electrical currents to make controlled heat. In turn, this heat can target and get rid of unwanted fat cells without interfering with the surrounding tissue. Radiofrequency energy can also help to stimulate the production of collagen and elastin, which can lead to firmer and healthier skin.
How long will my body contouring results last?
If you take good care of yourself, the results of your body contouring can last a long time. The best way to maintain your results is to maintain a healthy weight. Significant weight changes or pregnancy after your treatment can affect your results. Natural aging will continue so you may eventually notice loose skin again as you get older. Ask our team at Evolve Med Spa about tips that may help you sustain your results.
Is there any downtime after an RF body contouring treatment?
No, there isn't. After an RF body contouring treatment, the skin of the treated area may appear slightly red and be a little sensitive for about a day or two, but you can go right back to your normal routine with no downtime or recovery period.
A radiofrequency body contouring treatment at Evolve Med Spa is a great option if you desire a slimmer shape without the recovery time of surgery. By scheduling a consultation at our Dallas, TX office, you can learn more about this cutting-edge treatment and how it can fit your goals. Call Dr. Shimer and her team today to make your appointment.
Related Treatments
Related Posts